Try out our tapestries
Not sure which tapestry to buy? No problem! View our aesthetic tapestry designs in your own room with our mobile friendly Virtual Space Viewer.
New Arrival
Danish Pastel Wavy Mirror
Bring Danish pastel aesthetic vibes into your bedroom with this retro inspired mirror.
Shop
Best Seller
Aesthetic Sunset Projector
Create cool aesthetic vibes for your room.
Shop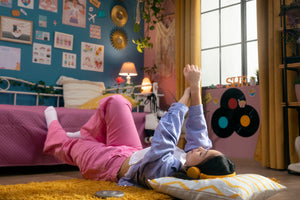 AESTHETIC ROOMCORE
create your dream aesthetic room
Browse our unique collections of aesthetic décor and accessories to create your dream aesthetic room today!
Shop Aesthetic Rooms


Aesthetic Roomcore is the place for all your aesthetic room décor and dorm accessories needs. Our online store features a wide range of aesthetic room styles & inspo including indie kid room, soft girl room, grunge room, dark academia room, witchcore room, cottagecore aesthetic room and many more!
Shop now and create your dream aesthetic room today!
★★★★★

"Would definitely shop with aesthetic roomcore again! I love that they have so many aesthetic styles to choose from. :)

-Sarah P.

Los Angeles, CA
★★★★★

"i love aesthetic roomcore. i bought all my posters from there. they're great quality. i ordered lots of other things too and they gave me a free gift. thank you!"



-Rachel H.

London, UK
★★★★★

"I`m so happy how my dream room makeover turned out after shopping on Aesthetic Roomcore."

-Jessica S.

Miami, FL
★★★★★

"My new favorite store! Really happy with my aesthetic room makeover"

-Ashley K.

San Antonio, TX
★★★★

"thank you so much for this ,my dauther was so happy i will be buying from this site again thank you so much this is a blessing. thanks Aesthetic Roomcore."

MJ

Georgia, USA
★★★★★

"I just came across your guys' website and think what you do is so cool! please keep it up!! i'm planning to remodel my sister's room for her bday next year and i'll be taking a lot of inspo from your brand. 🤎"

- @sithbaby